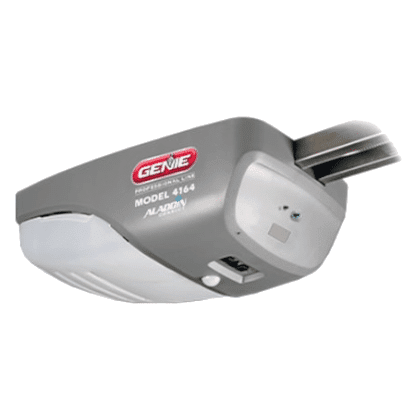 The TriloG Pro series 4064 is a Genie direct drive screw opener that features a 1¼ HP with a 140 volt direct current motor that aids in its vigorous and dependable performance on residential garage doors. Designed with GenieSense monitoring and diagnostic technology, this type of garage door opener is equipped with continuous door operations monitoring. Contrary to other models of screw-drive openers, the TriloG Pro series 4064 does not demand regular parts replacement as the GenieSense technology mitigates the wear and tear process.
Other GARAGE DOOR OPENERS
Looking for a reliable Garage Door Service Provider? Give us a call now at 615-551-1241 and our customer service representatives will be with you shortly!
EFFICIENT | TRUSTWORTHY | AFFORDABLE
Completes numerous architectural patterns, from conventional to current and adds classic charm and sensational appeal to the home. This new assortment of traditional wood garage doors offers residential property owners a lovely wood carport entryway at a moderate cost.
Traditional Steel Garage Door
Our traditional steel garage door are available with classic raised panels or modern long panels, these doors are surprisingly affordable. Its low-maintenance finish manages to look amazing thanks to the double coats of baked-on polyester paint.
Amarr Stratford takes quality to another level as its residential traditional steel doors feature UV inhibitors that block the door from becoming dull. This type of garage door is suitable for windy residential areas, as it is fitted with a wind load reinforcement system.
Carriage House Garage Door
Makes an astonishing mix of a lovely wood carriage-house door with the strength of steel. This set of architecture-inspired garage doors feature first-rate design, thermal performance and stability. You can customize the look of these doors by selecting from a variety of paint.
DurafirmTM Collection Vinyl Clad
Features jagged, thick vinyl skin that frees any homeowner from the anxiety brought by wood door maintenance and steel door rust. Boasting an energy efficiency with an R-value of 11.75, these doors offer reliable strength and amazing sound absorption.
Modern Aluminum Garage Door
Modern aluminum garage doors are serving a smooth and refined look for today's latest-styled homes. Featuring sleek design and neat lines shaped from stable corrosion-resistant aluminum and light-filtering glass make an impressive balance to your home.
These brilliantly designed entryways catch the magnificence and nitty gritty of common wood without the upkeep. They include a slyly shaped wood-grain fiberglass surface while covering strong steel development, and give quality, magnificence and incentive to your home.
Thermacore® highlights our sandwich construction of steel-polyurethane-steel and between-section seals with thermal breaks to keep the thermal to keep the thermal effectiveness that will keep your precious home looking incredible and comfortable in both cold and hot environments.
Clopay Classic Door Collection
Clopay Classic Door Collection are specially designed steel doors for homes. It comes with a flush, short or long panel.
The Wayne Dalton Classic door collection puts the spotlight on durability and powerful performance. These varying low- maintenance steel garage doors are designed with raised or recessed panels.
Strong. Quiet. Versatile.
1108 McKennie Ave
STE 500 Nashville, TN 37206
Email : brooksgaragedoorstn@gmail.com
Monday- Friday: 7AM-6PM
Saturday & Sunday: 10AM-5PM